Family-owned and operated by Toowoomba locals Chris and Hayley
Toowoomba Located
|

  Regional focus
Regional Reports was established in 2008 with Chris & Hayley joining the company in 2019 and becoming the owners in 2020. We carry out pre-purchase Building and Pest Inspections as well as final building reports. The company is fully licensed and insured and is a member of the Master Builders Association.
"We have always had a passion for business and are not afraid of hard work so when the opportunity came to take over and run Regional Reports it was a perfect fit with Chris's over 15 years of experience in the Building Industry and the same for Hayley in customer service we jumped at the chance to run it together as a husband and wife team"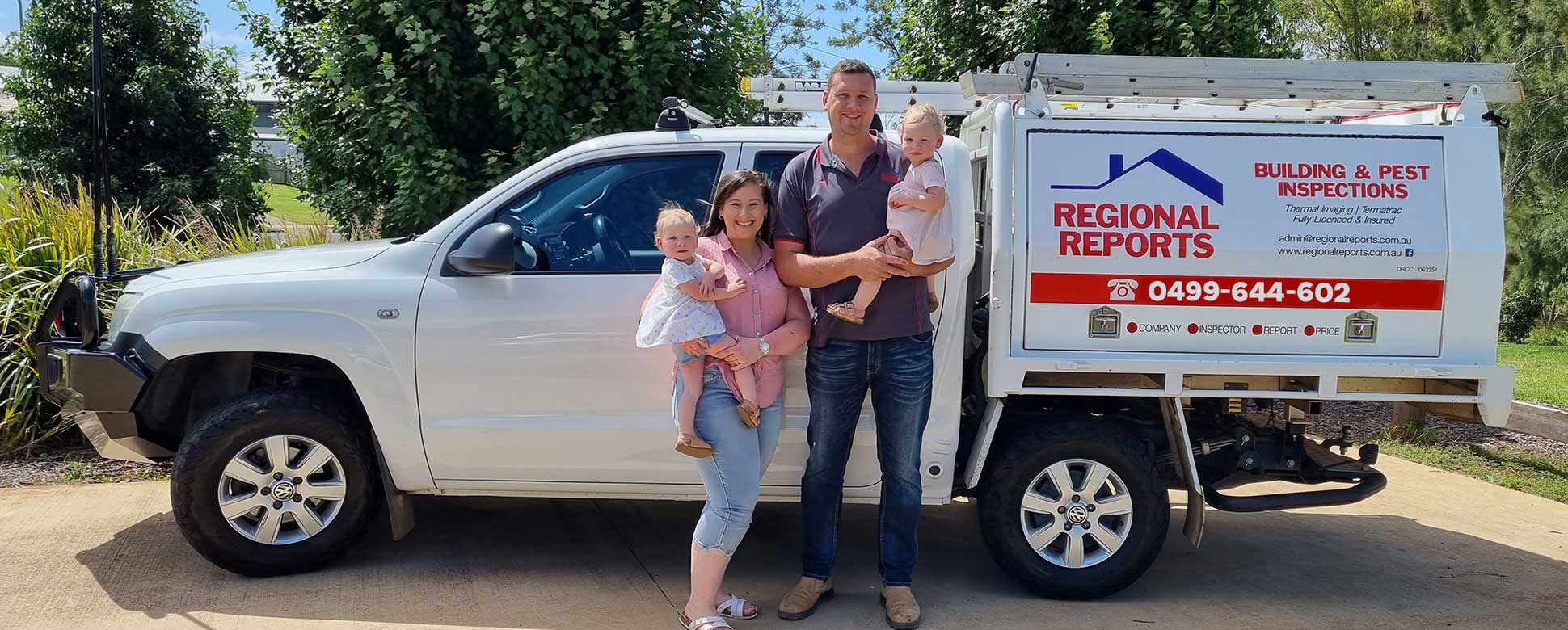 15 + years in the Building Industry
Chris spent the past 15+ years in the construction industry working on large, high-quality building projects down to small, personalized renovations. Most of his career was spent servicing rural areas. Chris then underwent several years of training in order to be licenced & deliver building and pest inspection services. 
Hayley has spent her working career for the past 15 years working in customer service roles and loves working with people.
One report, one price
Book a combined building and pest inspection and there is no extra charge for the Thermal Imaging Camera, Borescope and Termatrac equipment if it is required.
Independent Advice
Our advice is independent and professional. We specialise in pre-purchase inspections and will give you trustworthy information about building faults and termite management.
Convenient and reliable
We make it as easy as possible. We will contact your real estate agent and arrange access to the property. Your report will be emailed the next day.

"Highly recommend... they are brilliant. Thorough...very professional and give a great detailed report. Hayley is so efficient in the office and happy to answer your questions."
Rebekah Watt

"From start to finish I was very happy with my experience. Helpful  and turning the report around very quickly. I couldn't be happier with the team. Thank you."
Mark Lehmann

"On time to inspect...Chris explained things that needed doing in a way that I could understand while also giving me recommendations. Just great value and great quality."
David White